Explore Promises of the Constitution, our workbook and resource book, DVDs, and presentations to understand the greatness of our Constitutional Republic.
Promises of the Constitution : Yesterday, Today, Tomorrow
Promises of the Constitution is written in clear, enjoyable 1 1/2 page sections, each easily read in 5 minutes. While reviewing the substance of the Constitution, it tells the history, Founders, principles, enemies, and restoration of our inspired Constitution in 132 concise, powerful vignettes.
Promises of the Constitution makes it easy to understand our national greatness and teach it to our families and students.
Lessons of the Constitution, the student workbook and parent-teacher resource book, turn Promises of the Constitution into a textbook for homeschoolers, charter and private schools, family study time, and seniors. In both a discussion format and a self-study program for families and upper elementary through high school students, Lessons of the Constitution provides additional Biblical scriptures, resources, and application exercises of the Constitution.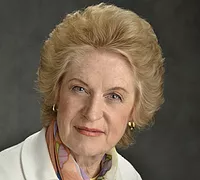 Pamela Romney Openshaw, found her passion for the Constitution serving on President Carter's White House Conference on Families in 1980. She is a BYU graduate who has created and operated several businesses, including consulting and construction firms. She has taught professionally in elementary school, high school, special education and for constitutional organizations. She is an experienced public speaker and former speaker for National Right to Life.
The wife of a retired Air Force officer, she is the mother of eight children and grandmother of thirty-four. She is currently at work on her fourth book.
The United States Constitution, born 227 years ago, is one of the most profound documents ever written. It was centuries in the making and created
Read More »
Easter brings Christianity, the heartbeat of American liberty, to center stage. Our Founders were almost unanimous in their Christian beliefs. America's Constitution is centered on
Read More »
by Pamela Romney Openshaw, Get It Right, Weekly Tuesday Column, Daily Herald Anti-discrimination legislation is knocking at Utah's doors. This legislation would allow members of
Read More »
Download Promises of the Constitution — FREE!